Ft. Benning Screws Up Again with the Plumley Plaque
Whoever initiated the Plumley plaque debacle should be reduced to Private because of their incompetence. Plumley never should have been honored that way of course being a known fraud. It shows that the Army will do anything to honor a liar. Why the Army dishonors real heroes are unknown.

Here are the errors in order on the plaque.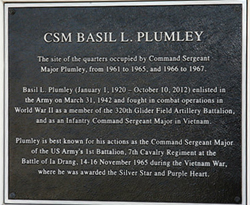 Iím not sure why they have Plumley only living at Benning twice when he was there in 1956-1958 and from 1969-1971.
The bottom line is that the Army still honors a fraud and not only that the Army canít even get the plaque right. Benning has this as well http://www.airborneinnormandy.com/steuber.htm


Brian N. Siddall
December 10, 2017